Nenagh Town
Nenagh by Robin Wallace
Nenagh's skyline is dominated by the circular Norman tower at its centre. It dates back to the 12th century. "Nenagh Castle is now open to the public, you have to check it out," suggested @Lisa_Celtic, @backpagebrian and @Oldefarm. From Dublin, @FixxCoffeehouse (Nenagh connections?) tweeted "The castle is now open to visitors for the first time in a few hundred years." Twitter called it a castle, I'd call it a tower. Semantics aside, for any town to have a restored 12th century historic structure in its centre that you can climb – for free – and look out over the surrounding countryside, is a tremendous asset.

"This was the Butler's stronghold before they moved to Kilkenny," Michelle Harty informed me. Along with Kevin Whelan, they were manning the little information desk on the ground floor.

It was only opened to the public in June and since then, they've had over 7,000 visitors. Or as Whelan informed me, I was visitor number 7,017; they manually record the numbers as entrance is not ticketed.

"Climb to the top and survey your morning's walk!" @aoifemcguire urged. I duly scrambled to the top with its fine view, via a satisfying succession of ever smaller and steeper stairs.

From the top of the tower, you can see the unusual hectagonal structure of what's now the Heritage Centre, but was the home of the governor of the prison. "Heritage centre/old jail where Cormack brothers hanged in the wrong in 1858," tweeted @olearya
The castle is Nenagh's oldest building, and its construction in the 13th Century laid the foundation for the development of the town.

Theobald FitzWalter, whose successors would become Earls and Dukes of Ormond, built the castle and upon its completion c.1220 it served as the main seat of the Butler family. The keep, the 100ft high tower house that is today known as Nenagh Castle, was at one time surrounded by walls, along which were placed a gate house and two defensive towers. The keep is in a good state of repair; however only remains of the gatehouse and one small tower currently remain.
Leask described Nenagh Castle as "the most remarkable structure of its kind in Ireland", and it was built specifically with defence in mind. The walls at the base of the castle are "splayed", which protected the base from canon fire, and the subsequent curvature of the walls allowed missiles dropped from above to ricochet outwards upon the assailants. Also to be seen on the wall is a "machicolation". This is a stone platform that projects from the third floor, resulting in an overhang on top of attackers. The platform had a central opening, through which defenders dropped an array of missiles down directly on the heads of those below. Read more courtesy of Ask About Ireland
Free admission to Nenagh Castle, come and visit!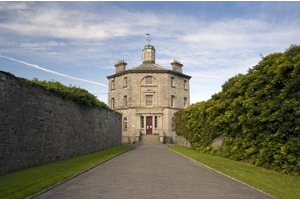 Housed in a mid-19th Century building which was a County Gaol Governor's House, a Convent and a Heritage Centre, this unique Museum is well worth a visit! The Nenagh Heritage Centre is located in two stone Georgian buildings, built in 1840-1842 as the Governor's House and Gatehouse of an extensive Gaol complex for North Tipperary, which held thousands of prisoner's until its closure in 1887.
Condemned cells in the Gatehouse held persons who were sentenced to death by hanging. Between 1842 and 1858, seventeen Tipperary men were executed here.
There are both Permanent Exhibitions and Temporary Exhibitions throughout the year so there is always something new to see. The building is located just a short walk from Nenagh town centre.
Free admission to Nenagh Heritage Centre / Museum, come and visit!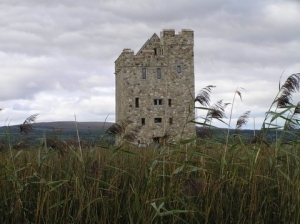 Visit this beautifully restored castle on the shores of Lough Derg. Owned by Pat and Mary cody, a visit to this castle is a wonderful day trip taking in the beauty of the lake and surrounding area.
The castle itself is full of history and artifacts, see www.castlebawn.com